Hiroshima Day Peace March
Hiroshima Day Peace March today. Also my first personal purposely-go-there-for-shooting outing.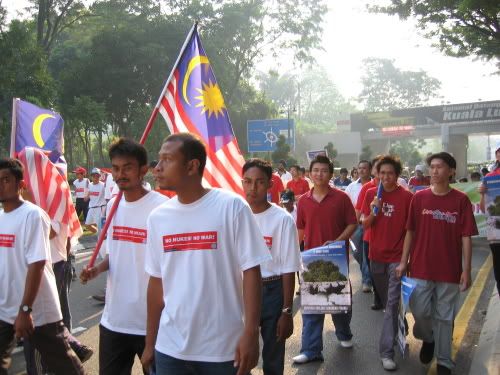 Woke up late at 7 o'clock. Went there by KTM. Walked a little to Padang Merbuk, didn't see a single soul. So dad and i thought it was over or something like that.
Was walking back when dad stopped a man and asked. Good thing he asked, or we'll miss the whole march. The people were over near Dataran Merdeka.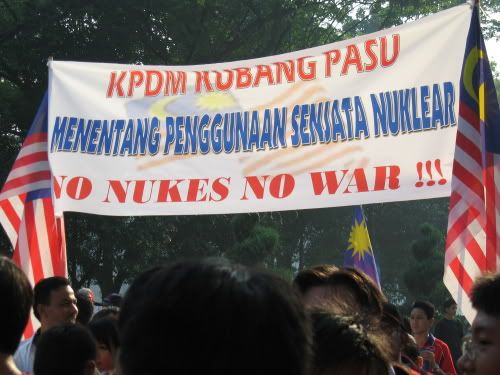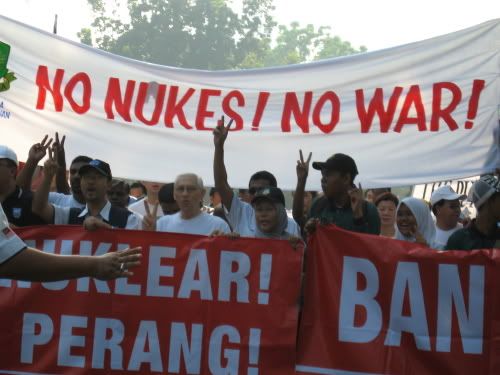 I didn't know peace marches are like this. You know, banners, posters, whistles, free mineral waters, photographers, policemen etc. I thought by march, they meant band marching. Naive little me.
Anyway, my first outing.
Had to build up some courage to take pictures in front of all those telephoto lenses. It's not easy for me. Intimidated by those big gears, me.
You know those perfect feng-shui places to take pictures, i dare not go near. The pros are over there. I don't wanna block their view and ruin their photos or anything like that.
Dad practically shouted at me because he can't stand me missing out on all those perfect opportunities to get a good shot.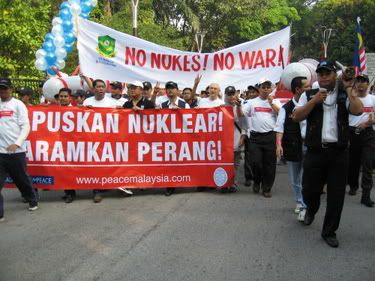 And then i build up courage as the march progressed. Got way in front of the frontline to shoot. Getting into the middle of the main street armed with a P&S was quite fun actually.
We stopped at somewhere Lake Garden there. There were prayers made by a whole lot of different religion leaders.
Near me was a couple of Malays who joked and laughed loudly when a person was asking for one minute silence to pay respect for the people who were killed in the attacks 60 years ago. Dunno from what school.
The people who showed up were little. If there wasn't any schools participating, there would be even less people.
After some speech was performances by dunno who. Dad and i left the place when an AF girl was singing.
Theres a lot more photos i shot over
here
.